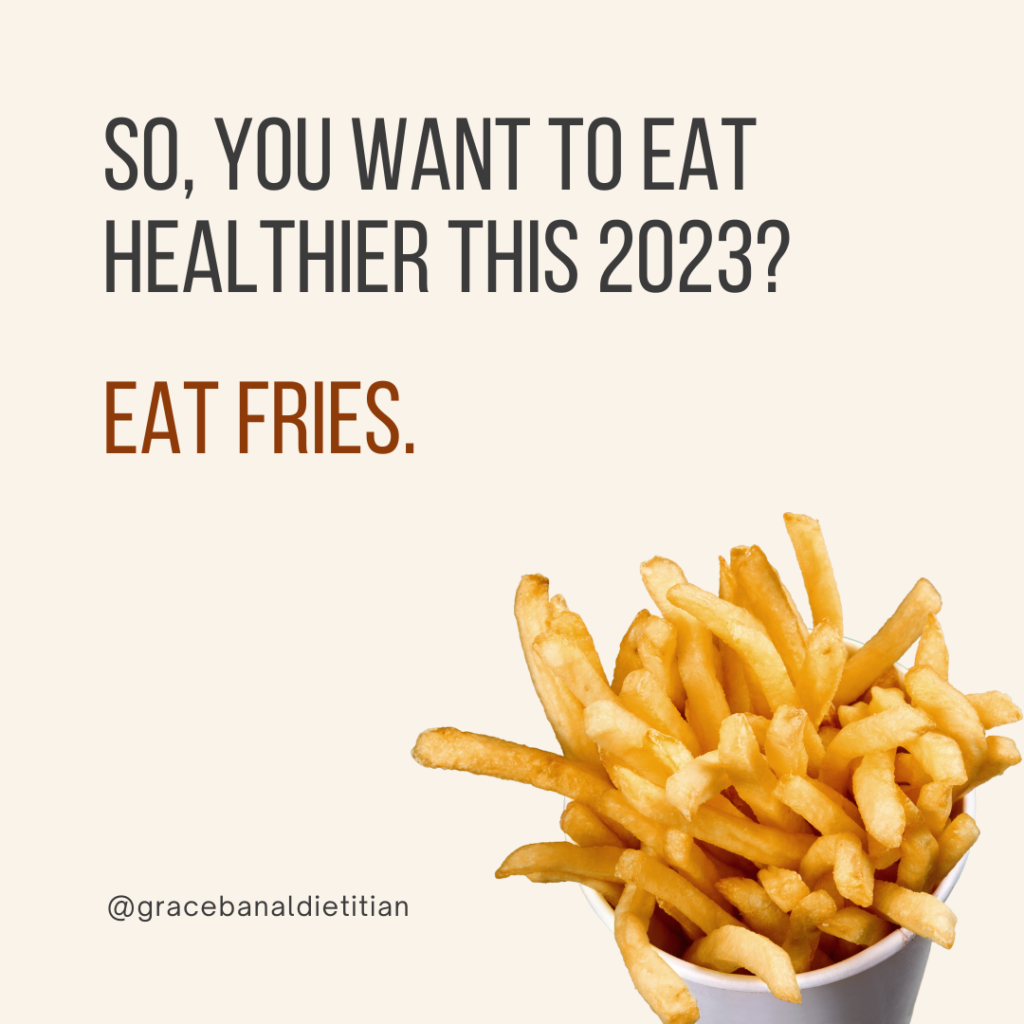 Before you violently react, here's a chismis from a 2022 research study:
Experts in obesity, nutrition and public health conducted a randomized clinical trial to test whether eating potatoes everyday can make you gain weight (especially fat).
They compared the effect of eating 300 calories of potato fries to eating almonds with the same calories. They tested it on 180 adult men and women!
This is what they found out in the study:
Fries (which are labelled as "not-so-healthy") and almonds (which are known to be "healthier") had the same effects in weight gain or markers of type 2 diabetes risk, at least in the short term.
Surprising, right?
Yes, many of us associate fries with an unhealthy diet. I even include them in the "eat less" list of some of my clients. But hear me on this:
THEORY says that eating fried and carbohydrate-rich foods such as fries may lead to weight and fat gain. BUT…
EVIDENCE shows that eating fries will not automatically derail our weight loss efforts.
This is why I don't mind if I see fries in my clients' food diaries. I'm a nutrition coach, not a food police.
I'm a nutrition coach, not a food police.
So, if you ever find yourself craving for fries when you're on a "diet", here are my tips for you:
Variety – adding fries to an overall healthy diet is a fun way of adding variety in terms of flavor and texture. So, enjoy your crispy and flavorful fries when you're craving for it, then go back to your regular healthy diet after.
Moderation – Don't eat too much tho! Order a regular-sized fries, savor every bite and then move on happily, guilt-free. Or order a larger-sized fries and share it with family and friends. Sounds fun, right?
Balance – Fries contain complex carbohydrates and oils (from frying). Let's balance it with fruits, vegetables for fiber and protein-rich foods such as cheese, nuts, fish (as in fish & chips!)
I enjoy fries especially when I'm with friends and family.
Kaya kung ayaw mo sa fries, salamat na lang sa lahat. ?
This post is sponsored by Potatoes USA – Philippines. All opinions stated above are my own and references are indicated below.
References:
Potato fries recipe ideas:
https://potatogoodness.com/recipes/korean-bbq-chicken-fries/
https://potatogoodness.com/recipes/sweet-and-sour-chicken-and-waffle-fries/
https://potatogoodness.com/recipes/korean-beef-bulgogi-loaded-fries/
Links to social media post: