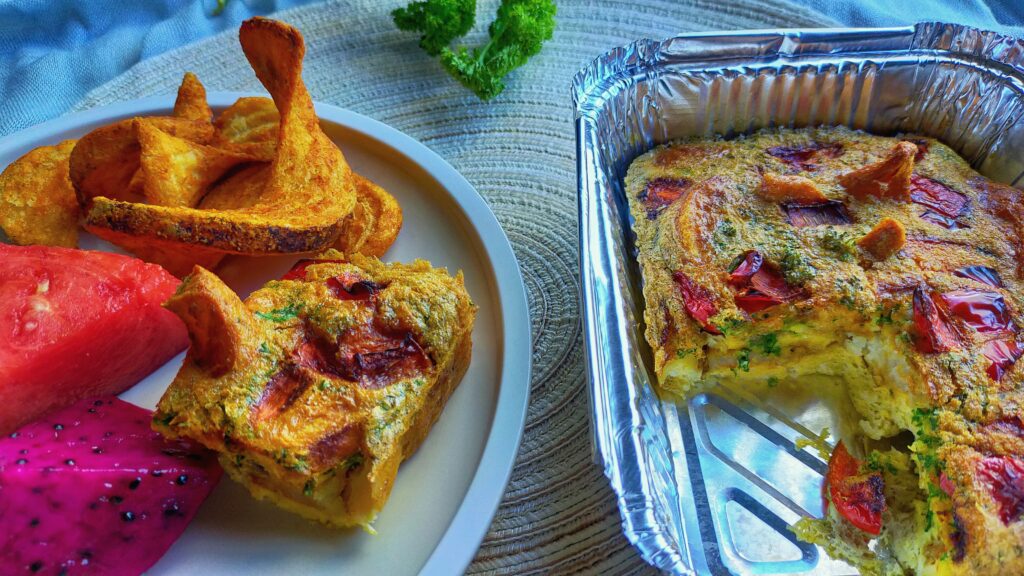 What if I tell you that:
Those who don't eat breakfast regularly have a higher risk of obesity risk and reduced activity and performance during the day [1]
Breakfast helps improve daily routine activity, brain function, memory recall, children's performance, and women's health [2]
Breakfast consumption is positively correlated with motivation and academic achievement of students,
…will you now MAKE TIME to cook breakfast for you and/or your family?
To nudge you into saying YES, let me share with you an easy breakfast recipe that helped me and my clients make eating healthy breakfast a habit:
Easy Yummy Potato Frittata
3 servings
Ingredients:
300 grams frozen potatoes
3 eggs
chopped bell pepper
chopped parsley
Materials:
Air fryer / oven
Small baking pan (foil / aluminum) that can fit inside an air fryer
Procedure:
Put frozen potatoes in a small baking pan that can fit inside the fryer. Bake / Air fry at 180°Cfor 20 minutes. Set aside.
Using a wire whisk or fork, mix egg and parsley. If using plain frozen potatoes, season with salt and pepper to taste. Mix thoroughly to make the eggs fluffy.
Pour the egg mixture over cooked potatoes. Top with chopped red bell peppers.
Place pan inside the air frier or oven and cook at 160°C for 20 – 30 minutes. The mixture is cooked through if the edges pull away from the sides of the pan. Or insert a toothpick or knife in the middle of the mixture – these should come out clean.
This yummy recipe only calls for 4 basic ingredients and 4 easy steps. No tedious peeling required because this recipe takes advantage of "convenience foods" like frozen potatoes and turns them into healthier breakfast. You can eat it before you go or take it as a baon.
When you make time to fuel up each morning, you can focus more on your tasks at hand and you get extra energy to take on surprise challenges at work, school or at home.
Remember:
Try this recipe this week
Make healthy breakfasts a habit and
Feel the difference in your energy and overall health.
Let's make time for healthier mornings, ok?
Kain po.
#PotatoNutrition #PotatoPower #USPotatoes #TeamPotato #TeamPotatoPHL #PotatoesUSA #PotatoesUSAPHL #SponsoredPost #Breakfast #PotatoFrittata
This post is sponsored by Potatoes USA-Philippines. All opinions are mine and values for nutrition information are based from the USDA Food Data Central.
References:
[1] https://nutritionandmetabolism.biomedcentral.com/articles/10.1186/s12986-020-00526-z
[2] https://www.researchgate.net/publication/343245454_Importance_of_breakfast_and_health_benefits_A_review
[3] https://www.frontiersin.org/articles/10.3389/fpsyg.2021.700989/full#main-content
Nutrition per serving:
Energy: 258 kcal
Carbohydrates: 30 g
Protein: 9.8 g
Fiber: 2.8 g
Potassium: 560 mg
Vitamin C: 35.6 mg
Fat: 11.5 g (18% of total calories)
Sodium: 98.3 mg
Cholesterol: 206 mg
Sugar: 0.4 g
Links to social media: